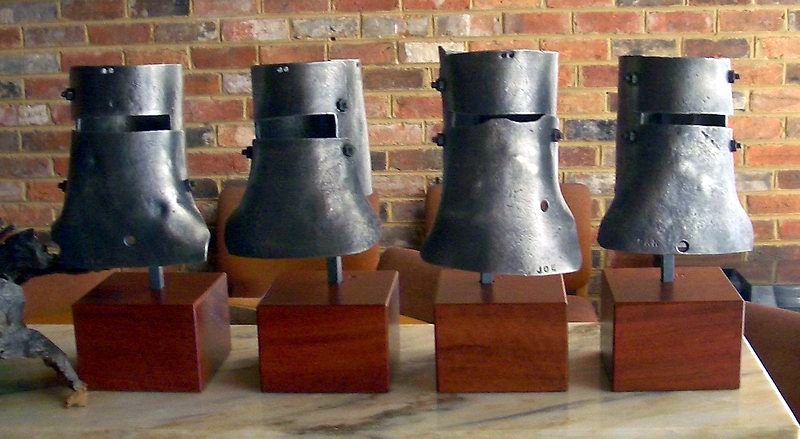 Ned Kelly Steve Hart Joe Byrne Dan Kelly

Ironicon Kelly gang helmet replicas, 1/ 3rd scale
A most iconic image of Australian folklore must be that of Ned Kelly's slotted helmet. The gap through which he viewed that 1880 Glenrowan misty morning can be imagined as the first wide - screen experience, horrible for its dramatic outcome. The image lingers in our mind as a symbol of his daring , and which has made him an Australian Iron icon.

Revered by some but not all, none can argue that 'Ned' created immortality for himself with that romantic notion for self preservation behind a suit of armour. The suits and helmets were made from stolen plough mould boards that were heated and wrought on a crude bush forge. This unique idea was best put by Keith McMenomy " the finished result was as unique and impractical as it was true to Kelly's spirit; a grand misguided gesture."

By whom and where the armour was made remains a guarded family secret, but it was claimed that Tom Lloyd and Dan Kelly made the helmets and suits on Kelly's own bush forge at the Eleven Mile Creek family farm. Tom Lloyd was cousin to Ned and the fifth member of the gang although he was never implicated. The reason these details were not released was probably to cover up and protect Kelly sympathisers who had helped the gang survive during those extraordinary times,
( local Blacksmiths included ) .

It has recently been proven that Joe Byrne's helmet had been made in a bush forge.
ANSTO, Australian Nuclear Science and Technology Organisation) tested the steel by X-ray fluorescence: The results showed the steel never got above 700 to 750 degrees C (cherry red) and consistent with a very hot bush fire.

See, Not Just Ned
http://www.nma.gov.au/exhibitions/irish_in_australia/bushrangers


Background images are of 1/3rd scale ironicon replica helmets

Regarding these ironicon Kelly gang helmets. I set out to create these models using similar techniques to that of the bush blacksmith. The miniature originals were made of hard wax giving a malleability similar to that of red- hot metal. Each plate was carefully measured, mapped, beaten and wrought into a likeness of the original parts. All dents, scratches, dings etc were included. The wax models were lost during the tool making process. No expense was spared in their making.





These helmet miniatures are exact die cast copies* of those lost wax models. Although they are very accurate as 1/3rd scale models, there are exceptions as some of the nuts and bolts were square, and on Dan's helmet, the visor was riveted. There are also some holes around the back of the helmets that I excluded as I could not be sure of their location or function without a lot of further research.

Each piece has been hand crafted to a high level and mounted on wood from Kelly country - specially selected for the purpose. As we could never own the originals, these models are the next best thing. The helmets can be removed from the stand if so desired. Very Australian made. *Copyright is claimed, Bill Denheld.

Pictured below, Ned's 1/3rd scale helmet here shown approximately actual size.




Key to numbers; 1 four pairs of holes were punched through the 1/4 inch steel plate around the top edge probably to hold the work in place during blacksmithing. The holes also served to attach a soft lining. Each of the four helmets have this feature indicating a similar helmet forming procedure and the maker.

2, Often mistaken for a bullet strike dent, this is more likely a heavy punch mark as it is flat bottomed. The description for this dent at State Library of Victoria where the original is on display says it is caused by a Martini Henry rifle bullet strike, however I believe it is caused by a punch as there appear two strikes one atop the other, and also the other bullet strikes were also caused by similar caliber bullets, so why doesn't this strike look similar to the other two.

3 & 4, Bullet strike direct hits. Most likely from .45 cal Martini-Henry or .50 cal Spencer rifles.

5 & 6, Countersunk bolt holes for holding the former plough shares to the frame of the plough, about 3/4 inch diameter.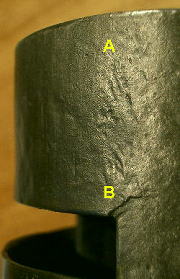 On Neds helmet the visor part has been blacksmith welded. A & B, This would have been a tricky bit of work on a wood fired forge. There is an issue here as to whether it is possible to do that on a bush forge because the metal would need to be at least white hot. It was proven that Joe Byrne's helmet and suit was made at relatively low temperatures 750c, Ned's helmet indicates much higher temperatures.
B, at the visor corner there is a small tear in the metal indicating vigorous manipulations to get it to go around the front. Note the hammer marks along the joint. Can we invite a blacksmith today to provide samples of forge welded steel plate? Now here's a challenge.
Picture shown is of the 1/3rd scale Ironicon model.







Of the four helmets, Joe Byrne's is the better design, each has its own strong points. It would appear that each individual member of the gang had a deciding factor as to how he wanted it done, after all he had to wear it.

Joe Byrne decided to reduce the eye slot to an absolute minimum. A bridge across the nose give the out look a goggle effect. To make such a careful deliberate profile would require a lot of filing. There are no burrs or sharp edges even though the metal is getting very thin around the shoulder contact areas.
On the real armour the flared shoulder metal is paper thin.
( below right )

Model is on the left,
the real Joe Byrne armour on the right can be compared. Camera angles are never quite the same, however see the subtle similarities of both.
I would estimate the helmet metal is much thinner than the others, which may explain the better workmanship exhibited on Joe's entire suit.
The designs are quite different yet techniques indicate the same maker.
Dan's helmet (left) has a separate visor, the others have an L shaped blank wrapped around and bolted with one bolt. Joe's helmet ( middle ) has thinner steel indicated by deeper hammer dents from inside. Steve's (right) has a vision slot overly large, but probably much easier to look through and not so critical. We can not be sure which was Steve's or Dan's as both their bodies were burnt beyond recognition in the fire of the Glenrowan Inn. Joe was taken from the Inn before the fire took hold. It is ironic that Joe was killed by a bullet to the groin which passed between his breast plate and his lap apron, yet he feared a fatal bullet passing through the gaps more than the others, his eye slots were testimony to that.
Since making the replica armour helmets, I have formed the theory that the four helmets were made by the same people. J.J. Kenneally's book of 1929 says they were made by Dan Kelly and Tom Lloyd. That's fine,- with Dan dead, and Tom taking the blame for the suits, this leaves others who helped to make these liability suits 'off the hook' so to speak.
Ned's helmet certainly indicate high level of skill as the visor area was welded to the cylindrical helmet shape. None of the others have this feature. This welding was done by heating to above white hot and bashing and blending the metal together forming a welded joint. This is not an easy task.
This welding suggests a difficult and skilled maneuver, a capable skill of a trained blacksmith. The other three helmets have not used this procedure and they adopted an L shaped blank to be cut out from the plough share. This was much easier as no welding was required but required large sized plough shares.

I believe Ned's was the first to be made for this reason, -you would not want to do it the hard way if the easy way was proven to be OK. There was also a question of economy, - the amount of surface area of steel required. From a design point of view Ned's has low fixing bolts which could be seen as a flaw in the design as the mask could flip forward onto the chest if the bolts were not tight enough. All other three helmets have high bolt fixings - indicating better design decision to adopt the higher bolt holes. ( After Ned's was made)

Also, Ned's Helmet is rather deep in the mask as with Joe's helmet being the deepest. Dan and Steve's helmets have rather short masks by comparison. Dan's helmet still has a plough fixing hole whereas Steve's does not. Dan's has a riveted visor indicating metal was running out (without finding more ploughshares). By attaching the visor with two fixing points, smaller pieces of steel could be used. I believe Joe Byrne's and Dan's helmet were the later to be made.
All background images are of 1/3rd scale ironicon replica helmets


Joe's helmet shows more refinements over the other three. It has more form and fit. See the shoulder flares, fine detailed eye slots to minimize bullet exposure, a general better level of care in the visor end shape and bolt hole.( a more sophisticated design) It was also a slightly thinner steel than the others which helped to mould it better to the shape required , and probably the last to be made.

An interesting finding by ANSTO ( Australian Nuclear Science and Technology Organisation ),
Joe Byrne's suit was made with temperatures no higher than 750 degree C, where as Ned's welded visor would require considerably higher temperatures( up to 1000 C). This indicates Ned's was probably made by a blacksmith at his forge. Once a technique was established, the boys adapted there own ways to solve the manufacture problems and opted a home made bush forge using charcoal. ( a lower level of heat as indicated by ANSTO on Byrne's suit)

A common feature exhibited on all four are the sets of 2 holes around the top circumferences.
These indicate a jigging feature required to form the red hot metal around a form. ( a green log into which 2 large spikes were hammered in ). These spikes served as a holding point to stop the steel from moving around as it was struck again and again. The other end of the red hot steel was held by blacksmith tongs. Each time the metal needed re-heating, the spikes were pulled out and replaced when more shaping was required. Although some historian believe the pairs of holes were put in to offer a fixing for woolen lining like a sewn in 'beanie', if that was so, why didn't they place the holes down near the ears level?

Where to purchase a truly Australian ironicon

Benalla Art Gallery, shop ( by the lake). Bridge Street Benalla Vic 3672 Ph 61-3 5762 3027
Beechworth Gold, Legends of Beechworth. Cnr. Camp and Ford St Ph 61-3 5728 3388

Featured Wood Gallery 5 Piggott Drive, Australind, West Australia 6233 PH 61-8 9797 2411

Glenrowan, Cobb& Co, 37 Gladstone Street Glenrowan Vic 3675 Ph 61-3 5766 2409

Museum Victoria, shop Carlton Gardens, Nicholson St Melbourne 3000 Ph 61-3 8341 7620


Old Melbourne Goal, shop (top end) Russell Street Melbourne 3000. Ph 61-3 9663 7228



Recommended Retail Price around Au $ 150 each - excluding postage.
Allow $20 for Express Parcel Post to anywhere in Australia.
(Note: this postal parcel bag can contain 2 helmets for the same postal cost)


Have trouble to purchase? contact the maker direct. Ph 61-3 9725 8910


see www.ironicon.com.au where Ned gets a fair go