A recent photo reported to be the members of the 'Kelly gang' was put up for auction.
My first reaction was to the photo's authenticity with faces so poorly detailed, they could
be almost any group of young men ? But added the fact the names penned in at the
bottom overlapped the picture mounts. Together with the mismatched ovals proves was
a copy of a copy. This would undoubtedly reduce the value of such an offering. However, given the original does not seem to have survived, identification of the faces remains
difficult to prove, but could they be Dan Kelly and Ned Kelly and Steve Hart as marked?
The photo is attributed to photographer Burrows in Launceston Tasmania.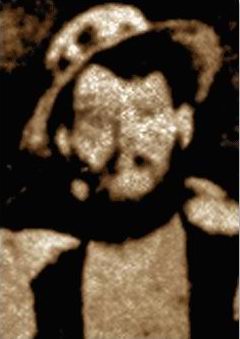 Computer enhancement helps reveal
missing information. Could this be Ned Kelly?

The Ned Kelly prison photo was superim-
posed over the faded central figure. (left)
Retired Sea Capt Jack Hoyle went to the
trouble to create a fad in fad out 'gif file and seeing this fading image, one is led to
believe the faces maybe the same.
Well done Capt'n, I am convinced its Ned.