13

Gold was not discovered in the district until after 1873, but early shepherd's huts were erected in this area after 1848 by Messrs Heaps and Grice who were the first lease holders of 'Fern Hills Run', a pastoral property of some 65,000 acres.
The fireplaces in these huts would have been constructed of easily obtainable local rocks (ordinary large river tumbled stones). From the appearance of the stones in the photograph above, these appear to be shaped or cut in the manner of large 'blue stone pitchers' used in town buildings or pavements, and must have been brought into this area.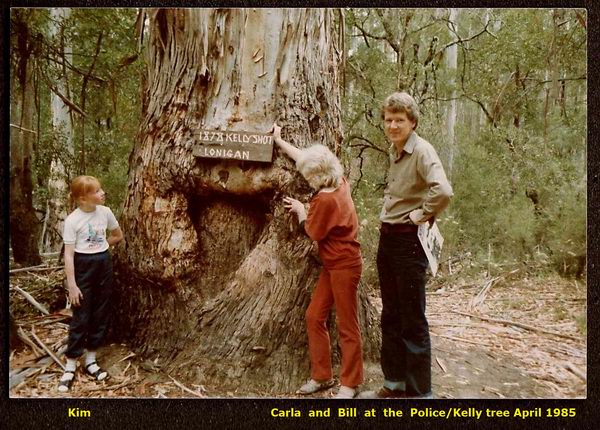 Whether this CSI@SBC / Adam Ford site was a hut, or the remains of materials brought in for a BBQs area remains to be verified, but by the photo below of the Denheld family posing, we can be certain its the same area by the looks of the forked tree.
If the Adam Ford dig was an established fireplace of a hut we need also to see ashes and charcoal. The existence of ash or charcoal was not mentioned in the documentary, but is obviously of importance if this is to be identified as the site of a former hut. If these stones pictured above can be proven to be related to any serious building structure, then there should also be evidence of other debris. The finding by assistants of the 'Adam Ford team a fragment of a 'cup,' this is hardly proof of this site having been a hut, particularly given the area has been used for so long as a BBQ area.