"Valid links with the Past"
Kelly Sites Toombullup beginning 1885 ……
Toombullup State Forest

Part of the Wombat Ranges in north-east Victoria.
Sharing and Comparing:
Articles and Stories relating to the Kelly saga.
Please observe © Copyright. All rights reserved. No part of 'Picking up crumbs from the McCrum files' may be reproduced without written permission.
Sheila Hutchinson and Fay Johnson 2004 ~

This research was undertaken to assist in verifying locations of two sites at Toombullup in the Wombat Ranges, which are associated with Ned Kelly and his gang. Site of Dan and Ned Kelly's secluded hideout near Bullock (Kelly) Creek, and the Police Camp site near Stringybark Creek.
The Kelly Gang was created at the shoot-out at Stringybark Creek on the 26th October 1878 when three policemen lost their lives there. They were Sergeant Michael Kennedy, Mounted Constable Michael Scanlan and Mounted Constable Thomas Lonigan.
~
2004: Discovery of Surveyors Maps that mark the location of Ned and Dan Kelly's hut and camp site at Kellys Creek plus one of their Target Trees and the site where 'Police Killed by The Kellys' at Stringybark Creek.
Authorised Surveyors: Kelly's Creek - C.T. Gatward 9/2/1885 J. W. Maxwell 10/3/1904. Stringybark Creek - C. T. Gatward 11/2/1885 (amended 19/9/1885)
~
December 2004: For sometime I have had a strong urge to investigate the Land Files relating to Kelly Creek and Stringybark Creek area for evidence which could assist in verifying the actual Kelly Hut and Police Camp sites at Toombullup. This year I've had that opportunity. For all the Kelly enthusiasts who are interested in information from the 1880's the basic results of this research are included in the following article titled, "Picking up crumbs from the McCrum files". For those keen enough, the survey maps featured in this article should tempt you to dig out your measuring devices and head for the hills.
Land Files: Some excerpts from the correspondence are included. These notes depict the hardships the selectors endured in order to hold onto and farm their selections.
Picking up crumbs from the McCrum files. January-February 2004
One hundred and twenty-five years after the tragedy at Stringybark Creek my friend Fay Johnson, who just happens to be a professional researcher and myself decided to put our heads together in an attempt to verify the site of Kellys' Camp on Kelly Creek and the Police Camp site at Stringybark Creek, Toombullup.
Fay Johnson has a special interest in the Stringybark Creek site as her husband is a descendant of the Burman family of photographers who traveled to Stringybark Creek and took a series of photographs of the scene of the tragedy in November 1878.
Both of us know the value of Land Selection Files and the great results they can produce at times, so Fay began delving into them. Long phone conversations helped Fay to familiarize herself with the area, which I know quite well, as I spent my childhood on a farm, nearby. In the beginning Fay encountered a number of stumbling blocks, but undaunted she delved deeper, pursuing several avenues, including those that appeared to be blocking her path.
1904 Survey Map: The first real find was a 1904 Survey Map that has a Kelly target tree marked as a boundary marker. Next was the map that verified that the location of Kelly's hut site was on a surveyed one chain road that ran between George Stokes allotment 21 and Robert McCrum, allotment 22.
Then the 1885 Surveyors Map showing 'Police Killed by The Kellys' site on the western side of Stringybark Creek was discovered in James McCrum's file. This find was interesting as the recognized site of the Stringybark tragedy is on the eastern side of Stringybark Creek.

These maps are from Land Selection Files - Public Record Office of Victoria (PROV)
Beginning with a 1885 Map: New Roads In The Parishes of Toombullup & Whitfield from my publication: 'Heritage and History on My Doorstep' which encompasses the history of the Wombat Ranges.

Map No 1 New Roads
Public Record Office of Victoria (PROV) Land Selection Files and Correspondence
Files: VPRS: 626/P Unit 650, File 19725/19.20:

Section 1885 MAP: NEW ROADS IN THE PARISHES OF TOOMBULLUP & WHITFIELD Selectors occupying the Kellys Creek and Stringybark Creek areas of Toombullup from 1884 listed on this Map were Walter Stokes – George Stokes – Robert McCrum – Joseph McCrum and James McCrum.

STOKES Walter Allotments 20 and 20a Parish of Toombullup
Public Record Office of Victoria (PROV) Land Selection Files and Correspondence Files: VPRS: 626/P Unit 650, File 19725/19.20:
1884 4th November Walter Stokes aged 20 years of Tatura,
Blacksmith, applied to occupy 308 acres 3 roods 34 perches, being allotments 20 and 20a, Parish of Toombullup. County of Delatite.
A survey fee of £9 was paid. Previous 12 months Walter resided at Baldwinsville (early name for Tatura) Map showing Walter Stokes selection.

Map 2
Public Record Office of Victoria (PROV)
Land Selection Files and Correspondence Files: VPRS: 626/P Unit 650, File 19725/19.20:

1885 December: Walter Stokes received his license to occupy however before this Walter had taken out a lease on a shop and carried on his trade as a blacksmith at Corop besides helping the family at harvest time. Therefore initially Walter Stokes didn't permanently occupy the land and he found it difficult to comply with regulations and pay all rents.
1887 October: "House erected, also started to ring the timber."
November: At home at Timmering, plans to return to Toombullup as soon as the harvest is over. During 1887 and early 1888 several folk including Thomas Lacey c/o Marungi Post Office, Mr.F. Morphett of "Tumbilup, via Bennella" Mrs. Agnes Morphett, widow of Trentham, Mr. George Wood who was working for Mr. Burns, Toombullup and Mr. Charles King Witt of Benalla asked about forfeiture of the land.
1888 May: Walter Stokes wife and child had bad health and he was unable to leave the Echuca district. In June 1888 the selectors and residents in the Parish of Toombullup decided to support Walter Stokes and send a petition to the Minister of Lands. Stokes family:- It would be a great hardship for them to leave the land. As a family they are an acquisition to the district. Petition signatures -
John W Wright G.T..Burns Donald Morphett Rantoplh Hughan
Robert Hughan John Bone Fred Heller Laurence Crowley
William H Chesterfield William Brick Thomas Thornton A.L. Archer
William Jones (James) Andy Kerr Robert Gemmill Samuel Gemmill
Thomas Lawless Herbert Beale James Whitelaw J.T. Simpson
Following the Petition Walter Stokes was requested to pay all rents due on the 27th November 1889. He said he would do so on or before the 1st February 1890.
1888 Extract from the Mansfield Courier. Most of the Wombat land is rich volcanic soil, and very heavily timbered, with heavy undergrowth of wattle and bracken fern. The labour attached to clearing this land for cultivation is both tedious and laborious work. As a rule they only ring-bark the large trees, then clear the undergrowth and small trees up to 18 inches in diameter., they then have to contend with the rocks.
Unwanted logs are dragged into a large pit or gully, in order to burn them. Fences are then erected in order to keep the wallabies and wombats from destroying their crops. These fences comprise of split timber slabs about 5 feet 6 inches long which are placed about 18 inches deep in the ground, and placed as close as possible, all around the crop.
Source: Heritage and History on My Doorstep
1892 July: Family residing with him on the land. Dwelling house of two rooms measuring 24' X 12'. Outhouses and garden 20' X 18' and Blacksmith shop 20' X 10". 250 acres of timber has been rung. Only 20 acres cultivated; (too heavily timbered). 200 chains of fencing on the land. A Lease was granted to Walter Stokes on the 10th August 1892.
Neighbours adjoining Walter Stokes' land were Jeremiah Crowley, Fred Heller and George Stokes (brother). Fred Heller; in July 1892 he was asked to show cause why this land comprising of 950 acres should not be forfeited.


1902






Walter Stokes and family had returned to Byrneside in the Tatura area. After residing at


Toombullup for several years Walter stated that 'he was compelled to leave the land'. He hadn't made a shilling off the place while there. The whole period being spent in labour and the expense of improving the place. He couldn't support his wife and family on the land owing to the inconvenience of market and railing accommodation. Therefore he had to leave the land idle and start another business. By May 1902 Walter wanted to surrender 50 acres of land (Allotment 20a) providing that he was credited with the 15/- per acre that he had paid on it.

1904 Walter and Catherine Stokes and six children lived at Byrneside. Walter tried to Lease the land at Toombullup but couldn't get a tenant at any price. He continued to struggle to pay the Land Board the due rents.
1907 January: The land at Toombullup was mortgaged with the Bank of Victoria.
1908 On the 30th January 1908 the Crown Grant was issued to Walter Stokes and was delivered to the Bank of Victoria as mortgagee.
Victorian Birth, Death and Marriage register.
Walter and Catherine Stokes family:
1888 Walter 1890 Catherine 1892 William
1895 Ellen 1898 Leslie 1900 Eileen
George and Eliza Annie Stokes family:
1890 Ellenor 1891 Olive 1892 Charles
1893 John 1895 Archibald 1897 Annie
1898 Ethel 1901 Walter
STOKES George Allotment 21 Parish of Toombullup
PROV Land Selection Files and Correspondence Files: VPRS: 5357/P Unit 1255, File 15/35 :
1885 February 7th George Stokes applied to occupy 309 acres 3 roods 39 perches allotment 21, Parish of Toombullup. Ryan's branch creek ran through it. The map of this land shows the western side of the creek consisted of 241 acres 2 roods 38 perches. The eastern side, 66 acres 3 roods 13 perches. A laneway known as a one chain road ran along the southern boundary between Robert McCrum's selection and his. The northern boundary adjoined his brother Walter's selection.
April 9th 1885, S. Shillinglaw, Surveyor stated – 'There also appears to be some old gold workings on the site which must be shown on plan and field notes together with all prominent features'.
1887 There is about 50 acres rung.
1888 January: George Stokes wrote from Corop saying that he not been in the position to reside on the land at Toombullup as he had his bullocks and it was the busy season carting wheat. The Bailiffs reported that the Stokes brothers were non resident and beyond the erection of a small hut, no improvements were effected. George Stokes was asked to show cause why this land should not be forfeited at the Land Board meeting at Wangaratta on the 29th May 1888. (The land application was revoked: Vic.Gov.Gazette, 3/8/1888)
1892 July 26th 1892, George Stokes stated that his family lived with him on the land and that he had a house of 2 rooms 15' X 13' made of slabs and shingle and a stable 24' X 13' made of slabs and bark. There was 40 chain of dog leg fencing. He had resided on the land for 4½ years. He had a garden and 1 acre of fruit trees. His neighbours were Walter Stokes (brother) and Heller. 25/11/1892, George Stokes received a license for this land.
L McPHERSON of Sternberg & Co., Melbourne
1895 26th January, the license of allotment 21 was transferred to
L McPherson of Sternberg & Co., Melbourne.
1901 March 7th , James Hedley, Liquidator of Bendigo informed the Secretary for Lands that the Sternberg Company were in liquidation. With no funds for the payment of rents of the 310 acres at Toombullup the License was revoked on the 17th April 1901. June: L McPherson, Sternberg & Co put the land in the hands of J.T,Brown, Auctioneer. He couldn't get a bid for it.

Map 3
PROV Land Selection Files and Correspondence Files: VPRS: 5357/P Unit 1255, File 15/35 :

A map in the file shows that allotment 21 had been divided into two sections – the division appearing between Kelly's Creek and the Ryans Creek. The western section was B and the eastern section was A. 28th October 1901, Block A comprises a granite formation with better subsoil (red loam). To the south is Robert McCrums' property of 321 acres.
Toombullup township site also shown on left hand side of this map.
December 1891: Township Site of Toombullup. A site for a township at Toombullup has been gazetted, commencing on the south-east angle of Block 118., bounded thence by that block bearing west twenty-four chains., seventy-three links, thence by Block 120 bearing south twenty-eight chains seventeen links and east sixteen chains fifty-four links, and thence by a road bearing northerly to the point of commencement.
Government Gazette: December 11th 1891 (91.S. 46048) (L.P.66)
1902 May: Parish map shows that L.McPherson of Sternberg & Co was given a Crown Grant of allotment 21a - 108 acres.
BEARD W. A.
1902 December: Mr. W. A. Beard of Benalla was given a grazing right on the land @ 1d per acre.
BEVAN John Sawmiller
Map 4 1903 August: John Bevan, sawmiller of Benalla applied for a Lease of 210 acres of allotment 21. He had residential property in Kew and one acre of land at Tatong in use as a depot and stables.
PROV Land Selection Files and Correspondence Files: VPRS: 5357/P Unit 1255, File 15/35 :

Map 5 1904 John Bevan received a Lease on the 1st July.
PROV Land Selection Files and Correspondence Files: VPRS: 5357/P Unit 1255, File 15/35 :

This Surveyors Map dated 10/3/1904 shows one of the Kelly target trees.
Measurements on this map commence at the junction of Stringybark Creek road, Kelly Creek road, and the road now known as Madhouse road. The present main road was opened in 1929.

Map 6
PROV Land Selection Files and Correspondence Files: VPRS: 5357/P Unit 1255, File 15/35 :



This note advises the surveyor of an error of 20 feet ( 6 meters) in his calculations for one of the the boundaries.


I904 Land Act 1901 Section 35 Application of John Bevan 10/3/1904
Parish of Toombullup County of Delatite 69/35 199a 0r 15p
Corners of this block defined by gum trees, white gums, messmate and peppermint,
(the peppermint listed as Kellys target).

The northern and southern boundaries were lined with posts (no wires).
Roads ran along the southern and western boundaries.
Undulating granite formation. Gum and peppermint timber. Poor soil.

1908 December: The Lease on allotment 21 was forfeited.
1909 February: The Lease of allotment 21 and 21B was cancelled.
McCRUM brothers Robert, Joseph and James: sons of Robert and Jane McCrum
Land selection Toombullup Parish of Toombullup County of Delatite

McCRUM Robert Allotment 22 Parish of Toombullup

PROV Land Selection Files and Correspondence Files: VPRS: 626/P Unit 645. File 19280/19.20:
1884 November: Robert McCrum applied for allotment 22, containing 319 acres 3 roods
37 perches at Toombullup.
1885 C.T. Gatward, Surveyor, surveyed this land and provided two maps. Both of these maps show the Kelly's Hut site as being on the one chain road that runs between allotments 21A and 21B and allotment 22.
Map 1 Land Act 1869 Section 19 Part2 Application of R. McCrum, acreage adjusted to 321 acres. Application No19280.19
Map 2 Field Notes acreage listed as 319 acres 3 roods 37 perches.

Kelly Creek Road and Stringybark Ck Road with Kelly Hut on road reserve
PROV Land Selection Files and Correspondence Files: VPRS: 626/P Unit 645. File 19280/19.20 :Map
Land Act 1869 Section 19 Part 2 Application of R. McCrum, acreage adjusted to 321 acres.

Robert McCrum's brothers Joseph and James had adjoining selections. Allotments 24 and 25.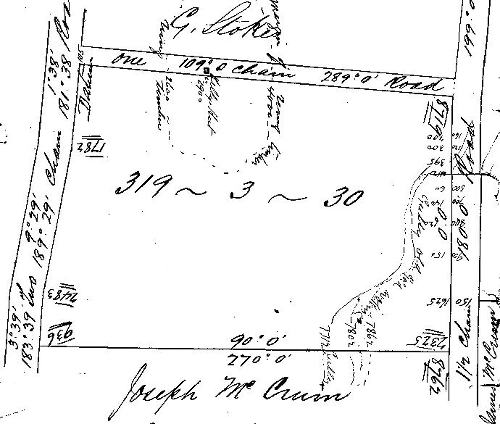 picture;
Kelly Hut on road

Map 2 Field N Notes: Acreage listed as 319 acres 3 roods 37 perches.
Authorised Surveyor C.T. Gatward 9/2/85





PROV Land Selection Files and Correspondence Files: VPRS: 626/P Unit 645.
File 19280/19.20 :

Kellys hut site on a surveyed one chain road running between George Stokes allotment 21A and 21B and Robert McCrums, allotment 22.

This road is a link between the old Wombat (Tolmie) to Benalla road and the Stringybark Creek/Madhouse road.
10/2/1894 Kelly camp; right opposite Mr.Stokes's door is the noted Kelly camp, where the huts stood ; they are in a lane now. Just the remains of the foundations and fireplaces can be seen, and the paddock of about 20 acres can be distinctly traced. There is a good road all the way from Mansfield to the spot now.
Heritage and History on My Doorstep
1886 August: Robert McCrum asked the Secretary of Lands if he could retain the land without residing on it. He had erected a house and rung the timber. He had also cultivated a few acres. He felt he would be losing time working on the selection until the timber was dry. Timber is very plentiful, means rather limited. He offered to pay half yearly instalments for two years then settle upon the land. He was informed that he could only absent himself for three months a year.
1888 January: Robert McCrum stated that he had a six roomed dwelling house, cultivation paddock and one mile of post and rail fencing. He said that he was desirous to leave the colony for a short time and asked if his brother, who lived on the adjoining piece of land, could take charge until his return. He was told once again that he could only be absent for three months.
1889 October: Robert McCrum was complaining about miners using his land and asked if he was entitled to compensation due to damages done to his 'improvements'. He was referred to Condition 7 of his License. (Mining was on the S/E portion)
1892 February: Robert McCrum stated that he had 250 chain of post and wire fencing. In regard to cultivation, the second and third year of his occupation he had oats on this land and then oats and potatoes. His dwelling house of weatherboard and shingle consisted of 4 rooms and measured 32' X 28'.
1892 May 11th Applications for Leases approved include Robert McCrum, Joseph McCrum and James McCrum. Government Gazette
1894 Mr.R.McCrum:, lives a short distance from his brother in a new cottage which replaces the one that
was burnt down. Heritage and History.
1895 Toombullup Goldfields, February 1895: Mr.R.McCrum has started building for the purpose of opening a business as a general storekeeper, baker and butcher. Heritage and History
1895 Robert McCrum was struggling to pay the rent and claimed he owed money to J.W.Hill storekeeper in Benalla. He complained to the Secretary of Lands; "This is forest country, the expense of clearing is £5 per acre, the cost of burning off fallen timber is 10/- per acre per annum. I am one of the many settlers in this district who finds it an impossibility to pay rents at the present.
1897 November: Robert McCrum was owing 11 rents of £8.0.6. A total of £88.5.6 and asked to present himself at the next Land Board meeting at Wangaratta.
1898 February: 'The crops of all sorts are a failure, home and all grass destroyed and a lot of fencing,(result of fire). In several cases dwellings, outbuildings and horses were destroyed.' Robert relied entirely on dairying for a living. He needed to rent grass for his cows or sell them. The Police Bailiff visited McCrum's land and confirmed that he had been badly affected by the bush fires. Robert McCrum was then informed that the arrears would be allowed to stand over for the present.
1899 Robert McCrum wrote from Bunbartha, via Shepparton. "I have a wife and four children to keep and after spending all my money and many years labour on the land, I find that I cannot pay my way by working it, so I have resolved to take wages for a time".
1900 Robert McCrum had let his land at Toombullup for 30/- per acre. Comments noted in Robert McCrum's Land File included:
"The Lessee some time ago supplied the miners on adjoining goldfields (at Toombullup) with provisions and lost £200 in bad debts. The market and bad roads has made cropping unremunerative. I found a man in charge (of McCrum's selection) and improvements being kept in repair. They, (the McCrum's) have a good property on Goulburn Valley".
1905 More comments: "Lease will expire on 30th November 1905. Rent due: £208. 13. 0. This man has not paid rent since 1892 – over 13 years ago". Robert McCrum wrote from Albury NSW. " There is no hope of me being able to pay any rent on this land until the Government provide a railway ….." (lack of facilities bad roads etc)
July: The land was again examined and the report stated: The whole area has been ringed and excluding 40 acres is much overgrown with wattle and dog wood scrub. There is a four roomed dwelling, dairy, stable, smith's shop, garden and out-houses".
Robert McCrum wrote asking about his Lease and that of his brothers. He was informed that his Lease had been revoked in November 1905 and his brother's leases had also been revoked.
Robert and Margaret McCrum family, all born at Benalla. 1892
Robert 1896 Jane 1898 Herbert & Mary (twins)<![if !supportLineBreakNewLine]>
<![endif]>
McCrum Joseph Allotment 24, Parish of Toombullup
1894 Mr. Joseph. McCrum :- McCrum's place was reached by a new road, which he intends making his main track to Mansfield. At present it is in the Benalla Shire; but they are endeavouring to get annexed to the Mansfield Shire., all farmers that live along this road hope to make Mansfield their market town. In order to do this Messrs. McCrum (2) Moffat, J.Crowley Heller and Williamson have commenced work on the road which will come out to the road near Mr.Sims and thence down to Bridge creek road.
McCrum Bros have had their selection for sometime, resided there 3 years. Mr.Joseph.McCrum has a comfortable home plus stables and sheds for implements, etc., and has just completed a pig-stye, which is 17ft by 60ft, divided into six compartments. The whole of this structure was split from one tree. Every winter all his milch cows are put in stables, and bedded. 40 acres of oats, and a few acres of English barley. Heritage and History on My Doorstep
1907 July: Mr.J.McCrum forfeited his 321 acres at Toombullup. Mr O'Connor went onto it and applied for a Lease. The application was refused.
J. McGribble the Secretary for The Lands Department sent Mr.O'Connor a letter, 'directed to take proceedings against him, for illegal occupation'.
1909 August: Mr.R.O'Connor is leaving Toombullup., resident 10 years, property formerly Mr.J.McCrum, son-in-law of the late Mr.H.Perkins. Spent over a £1,000 on the property. Heritage and History on My Doorstep
McCRUM James, Allotment 25, Parish of Toombullup
Land Selection Files: VPRS: 626/P Unit 645, File 19279/19.20:
This selection includes the area where the police set-up their camp on the 25th October 1878.
James Mc Crum, selected allotment 25 at Toombullup consisting of 319 acres 3 roods 35 perches. Part the April 1885 report: It would also appear that there are old 'Goldworkings' on the site these must be shown on the plan and field notes together with all prominent features.
Benalla Land Office S.Shillinglaw, Surveyor 9/4/85

Land Selection Files: VPRS: 626/P Unit 645, File 19279/19.20:Authorised Surveyor C.T. Gatward 11/2/85

Land Selection Files: VPRS: 626/P Unit 645, File 19279/19.20:

'Police Killed by The Kellys' written upside down on this map















Location of 'Police Killed by The Kellys' marked between Stringybark Creek and Stringybark Creek Road on the western bank of the creek.
Land Selection Files: VPRS: 626/P Unit 645,
File 19279/19.20:

A site of the Oct 1878 Police Camp is on the western side of Stringybark Creek on this map.

The details 'Police Killed by The Kellys' which appears to be written upside down on the map was assumed to be the site just after McCrum took possession, but this hut had already been marked on the original parish map of the area-about 158 metres further south and still inside McCrums southern boundary. So now there were two Police killed huts on Mccrum's land.
However, by all accounts the true site is 160 m further south where the remains of two huts were found by Bill Denheld and identified by Gary Dean in Sept 2002

| | |
| --- | --- |
| Photographs taken on the Western side of Stringy Bark Creek 9th November 2004 at the site of two huts fireplaces. | |
1892 James McCrum states that he has a four roomed cottage measuring 24' X 28' of sawn timber. Unmarried and lives at his brother's place, ¾ of a mile distance. Like his brother Robert, he was behind in his rent.
10/2/1894 Kelly gang :- Jogging along the road again we came across a solitary miner, living in a hut on the exact spot where the police had their tent pitched at the time the Kelly gang committed the murders. He informed us, that he could only knock out a bare living. :
Heritage and History on My Doorstep
1905 James McCrum had left Toombullup some years ago and was farming at Bunbartha. No one was residing on his land at Toombullup and it was overgrown with scrub. In November 1905 the Lease was cancelled.

Land Selection Files: VPRS: 626/P Unit 645, File 19279/19.20:
Land Selection Files: VPRS: 626/P Unit 645, File 19279/19.20:
Department of Lands and Survey Benalla 23rd November 1925
Application for grazing license allotments 23-24-25-25A (R. Stewart)

Following the McCrum's and other early selectors, the sizes of the allotments were altered. In some instances new boundaries were created. 1958 Map of TOOMBULLUP drawn and reproduced at the Department of Lands & Survey Melbourne.
From the 1920s to the late 1940s John (Jack) Healy, Charlie Beasley, Reginald (Tim) Brond and their families farmed sections of the land previously held by the McCrum family.
March 1949 Benalla Waterworks Trust meeting -
Mr.J. Healy, Mrs. I.M.Beasley and Mr. R.P. Brond had advised that the amounts offered them for their respective properties were not acceptable. It was agreed that the matter be decided by arbitration. It is understood that the price offered is greatly below that asked by the property owners.

Jack Healy knew exactly where the police were killed by the Kellys. In 1963 he had taken author of Kelly books Ian Jones and shows him the site but Jones rejected Healy's site and Jones decided it all happened on the East bank, and for the 30 years Jones's site became sacred

Section of 1885 MAP:
NEW ROADS IN THE PARISHES OF TOOMBULLUP & WHITFIELD











1885 Map showing land held by the McCrum brothers.







< Ryans Creek

Map copyright © Crown State of Victoria
Maps and information from publication: Heritage and History on My Doorstep
Toombullup 9th November 2004.
Stringybark Creek near the present Kelly tree.


PROV = Public Record Office, Melbourne. Victoria.
Publication: Heritage and History on My Doorstep by Sheila Hutchinson.


"Valid links with the Past"
Picking up crumbs from the McCrum files.
Compiled by Sheila Hutchinson 2004.

© Sheila Hutchinson and Fay Johnson 2004

Contact Sheila (mailto joshe@mansfield.net.au)